Overview
Update 13 September
This week's planned walkabout has been rescheduled - please see updated information below.
New details for the meeting time and location are below:
Meeting point: The Cromwell Room at St Mary's Church Putney, Putney High St, London SW15 1SN
Time: 5pm
Date: Wednesday 21 September 2022
We would like your view on our aspirations to improve Waterman's Green. 
Waterman's Green is the area next to Putney Embankment, alongside the River Thames at Lower Richmond Road. You might know it from dining outdoors at one of the local businesses or more recently as an area of construction by Tideway as they continue work on the new Putney Embankment Foreshore structure.
We want to tell you more about, and get your feedback on, our proposals for Waterman's Green and the Putney Embankment junction, and ensure you are kept informed about how these proposals fit within wider schemes for Lower Richmond Road, Tideway legacy, and current applications for Putney Pier.  
What are we proposing for Waterman's Green? 
(Updated 09.09.22)
We want to make the area a more pleasant destination for the local community by giving back this section of Putney Embankment to the public, after much of it has been closed off for so long due to Tideway and other engineering works in the area.  
We want to transform the area into a small park to provide a relaxing space away from the bustle of the main streets. By creating an accessible, calm, and green space near the Thames for residents and visitors to enjoy, we hope to complement other local projects to improve air quality and pedestrian spaces.  
Key features of the proposals include:  
More biodiversity through new planting and shrubs  

Improved lighting 

Improved access with a wider entrance and a gentle ramp instead of the current steps 
Retaining the existing London Plane tree and ensuring any trees that are removed are relocated or replaced 

Looking at the opportunity for a living green roof on the Tideway kiosk 

Encouraging footfall between Putney High Street and Putney Embankment
Please see FAQ Document at the bottom of this web page.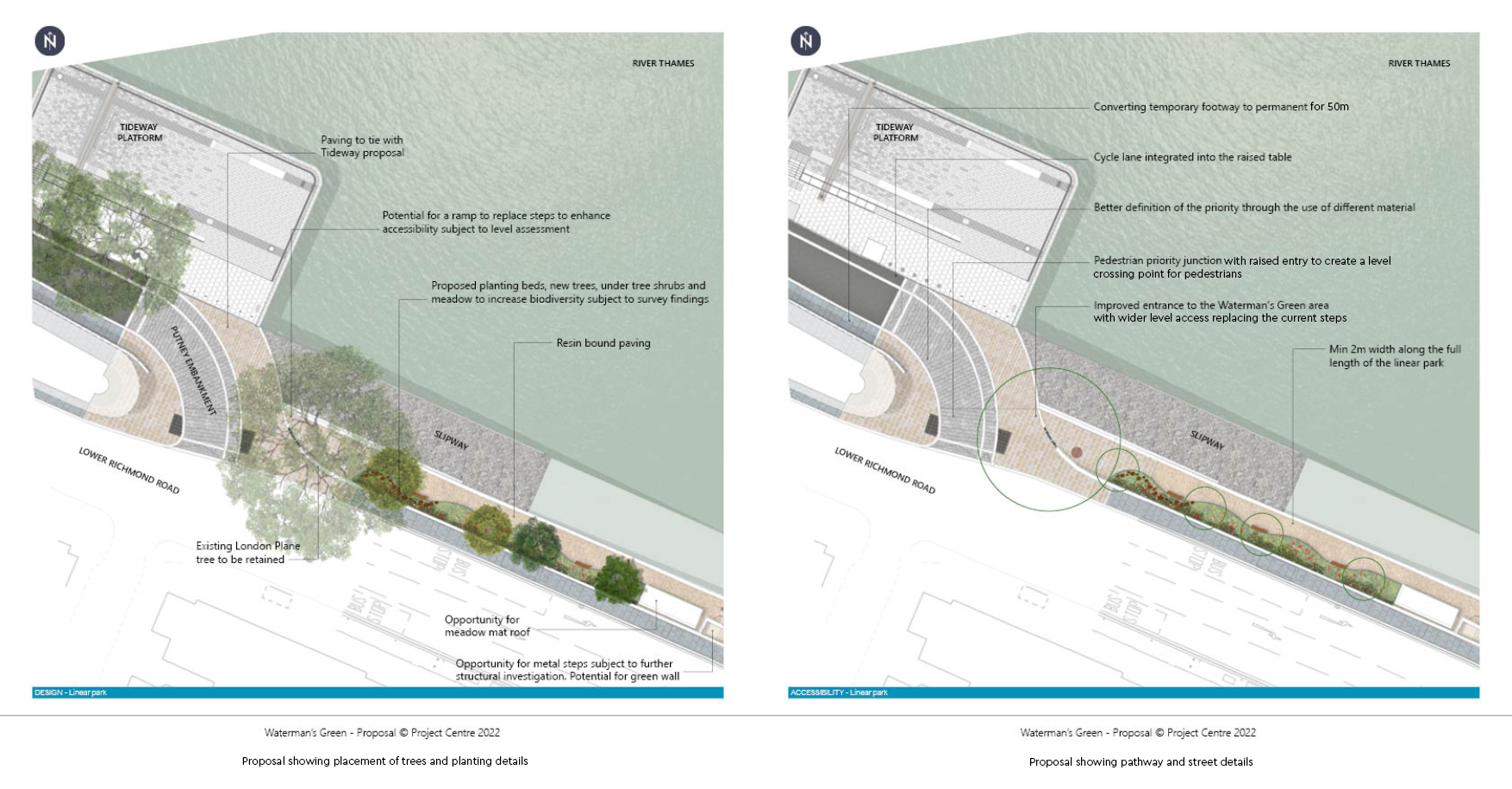 What's happening in the area? 
We have been working hard to improve pedestrian links between the High Street and the Putney riverside area and improve local air quality as part of our Climate Change Action Plan. The proposals for Waterman's Green are designed to complement other projects in the area which are shown on the plan below, and include: 
Improving walking and cycling links along Putney Embankment, linking in with a wider Walking and Cycling Strategy for Wandsworth. Initial feasibility has identified alternative routes and possible improvements for further design work: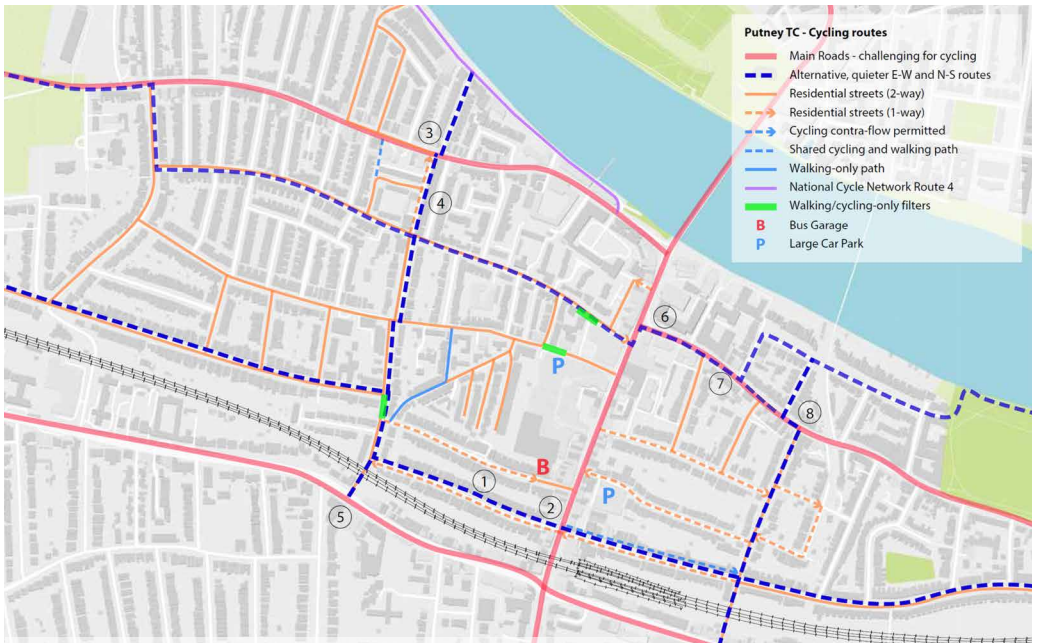 Have your say
We'd like to hear your aspirations for enjoying this area, let's create a peaceful and pleasant space together for us all to enjoy. Complete the survey at the link below. 
If you would like a paper copy or another format, please contact us at consultation@projectcentre.co.uk. Paper surveys will also be available to collect from St Mary's Church and Putney Library throughout the engagement period.  
Join us on a site walkabout 
Register to join a walkabout on location and discuss the proposals by emailing consultation@projectcentre.co.uk for one of the following dates: 
Full details will be sent out to all registered attendees before their chosen event.