Overview
Richmond Council would like to hear your views on proposals for cycle and pedestrian improvements adjacent to Hampton Court Palace, between the Palace roundabout and a point just east of Chestnut Avenue (Bushy Park).
The Council introduced a temporary layout in 2020 for the cycle lane and bus stop adjacent to Hampton Court Green, which included changes to the road markings and parking bay layout up to Chestnut Avenue. These changes were intended to provide for improved cycle access at a time when social distancing was being promoted and were introduced using temporary materials. This scheme was always intended to be temporary pending a permanent scheme to provide a shared off-road cycle route linking the Palace roundabout to Chestnut Avenue. 
Funding has now been secured to develop the permanent arrangement, subject to public consultation, detailed design and legal agreement with Historic Royal Palaces (due to a length of pavement falling within Palace ownership). The Palace have confirmed support in principle for the proposals outlined below.
The measures are intended to provide a safe off-road route for cyclists of all abilities in this busy part of Hampton Court Road, to connect the National Cycle Network route running along the river with Bushy Park.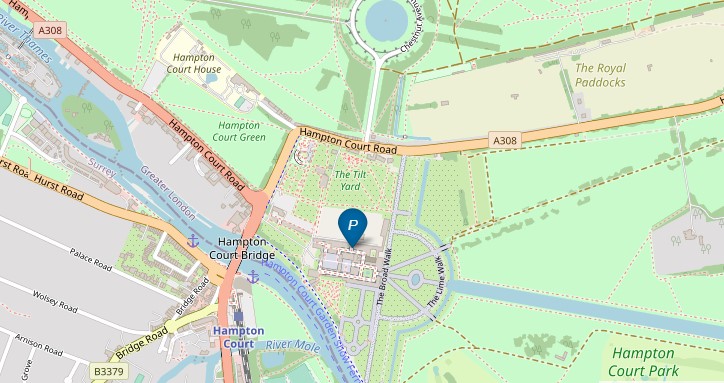 In summary, the proposal includes:
Removal of the following existing measures:
Existing floating bus stop and parking arrangement adjacent to Hampton Court Green
The zebra crossing on the northern arm of the Palace roundabout (the location of this crossing in close proximity to the roundabout has resulted in collisions)
The marked cycle lanes within this section of Hampton Court Road
Introduction of the following measures, which are shown on the numbered plan here
A new signalised crossing for pedestrians and cyclists adjacent to Hampton Court Green and outside the Palace
A formal shared path for pedestrians and cyclists adjacent to the Palace between the roundabout and Chestnut Avenue - this will require some pavement widening and footway resurfacing between the bend and Chestnut Avenue (more detailed plan for the shared path can be found here)
Off peak coach drop-off points opposite the Green (adjacent to the Palace)

Reconfiguration of parking bays; returned back to how they were prior to the introduction of temporary scheme. There is no proposed loss of marked parking bays resulting from these proposals

Carriageway resurfacing of Hampton Court Road

Relocation of the existing zebra crossing by Chestnut Avenue. This will be repositioned to the western side of Bushy Park entrance gates as a shared cycle/pedestrian zebra crossing

A raised entry treatment at the Chestnut Avenue junction to slow vehicle speed into and out of Bushy Park and enhance the crossing environment for both pedestrians and cyclists
Please note that this proposal comprises an integrated package of measures therefore it will not be possible to introduce some elements and not others. The scheme is being designed to be 'parking neutral', however the final scheme layout will be subject to further detailed design. 
Have your say
Your views are very important to us. Please give us your views using the Online Survey link below. If you require the consultation materials in paper or any other format please contact us at trafficandengineering@richmondandwandsworth.gov.uk or call 020 8487 5284.
What happens next
Once the consultation closes all feedback will be considered before a decision is made about the way forward. If a decision is made to proceed with the changes, it is our intention that implementation would commence in the latter part of 2023.