Overview
The Oldfield Road Meadow site is an area of grassland with mature boundary trees approximately 0.6 ha in size, located to the South of St Mary's School Hampton, and to the north of Upper Sunbury Road.
The Council Parks Team's vision is to develop a new nature conservation area, as the site has the basic characteristics in order to achieve this, with a relatively varied grassland sward and existing mature trees. The name 'Oldfield Road Meadow' is a working title and the site has not yet been officially named.
You can see a photo of the site below, showing proposed access gates for pedestrians and for maintenance vehicles: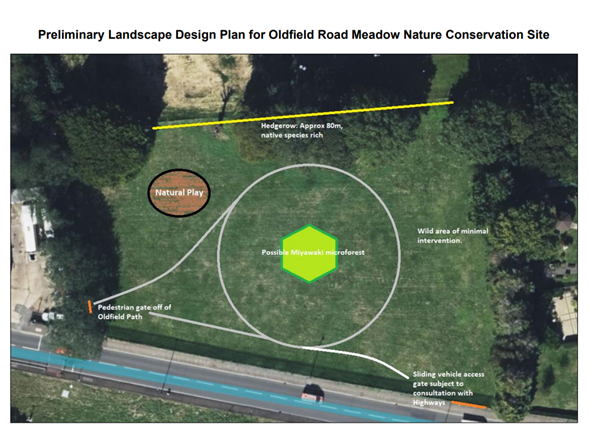 Following on from initial hedge planting this spring, a full preliminary ecological appraisal and habitat survey will be undertaken in June 2023, which will form the basis of long-term management decisions for the site. To date, preliminary ideas for consideration include:
Planting a Miyawaki microforest, which could be used as an educational feature and involve local people and school children in its creation and maintenance
The inclusion of a natural play area for children 

The eastern quarter or third of the site will be kept free of footpaths and desire lines and managed as an area of low intervention

Potential pedestrian and vehicular access points allowing public access (currently vehicle access is via school grounds)

Gravel footpath will be laid on the site, with the exact route yet to be determined, however an example proposal is shown above
Before any decisions are made we would like to hear your views about the proposal to create a new Nature Conservation site at this location.
Have your say
Please give us your feedback using the online survey link below. If you need to request a paper questionnaire or any other format, please contact parks@richmond.gov.uk or 020 8891 1411.
What happens next
All feedback received will be fully considered, along with the outcome of the habitat survey, before any decisions are made on whether to progress this proposal.