Overview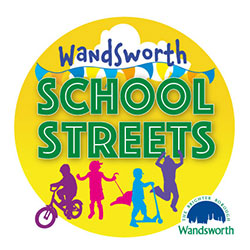 We would like to gather views on the proposal to introduce a 'School Street' for Hillbrook Primary School (as detailed on the plan here). It would involve a timed road closure of Hillbrook Road between Blakenham Road and Brudenell Road to motor traffic during school opening and closing times (term time only).
What is a School Street?
A School Street is designed to reduce the number of vehicles around the school, providing a safer environment for children travelling to and from school.
The council believes that the School Street would:
Reduce congestion and vehicles travelling through the School Street

Reduce pollution around the school entrance with fewer engines idling

Encourage more walking, cycling and active journeys from pupils and parents/carers

Result in less anti-social behaviour from inconsiderate parking and dangerous manoeuvres

Create a calmer, safer and cleaner environment
We have received complaints regarding inconsiderate parking and safety at school opening and closing times from both parents and residents. The school has worked with the council to develop these proposals.
What are the changes proposed?
We are proposing to make Hillbrook Road between Blakenham Road and Brudenell Road a pedestrian and cycle only zone between the hours of 8:15am – 9:15am and 2.45pm – 3.45pm Monday- Friday (term time only).
Signs will warn drivers of the days and times when the School Street is enforced

Automatic Number Plate Recognition (ANPR) cameras that recognise vehicles entering the School Street zone during the hours of operation will automatically issue a Penalty Charge Notice (PCN)/ fine

If you live within the School Street zone you will be able to apply for a free exemption to allow your vehicle access during the School Street hours

Any vehicles already within the School Street zone would be permitted to remain or exit

There will be no changes to parking bays
These proposals are being fully funded by Transport for London and if approved are expected to be implemented in the current academic year 2019/2020.
Have your say
Any information you provide will help us make an informed decision about the scheme.
To take part in the consultation, please look at the plan for Hillbrook Road and give us your views using the online survey below. If you would like a paper copy of the survey please contact transportation@wandsworth.gov.uk or 020 8487 5130.
Please note if you are responding on behalf of an organisation, only ONE response will be accepted.
What happens next?
We are consulting widely including all affected properties on Hillbrook Road and those side roads branching off Hillbrook Road. Ward councillors, businesses, local and statutory groups are also being consulted.
If approved, the council is proposing to implement the scheme under an Experimental Traffic Order (ETO) for a minimum of 12 months. An ETO allows the scheme to be trialled and monitor travel behaviour and local impact.
For more information or news of any drop-in events visit wandsworth.gov.uk/schoolstreets