Overview
In July 2019, Wandsworth Council declared a climate emergency. The Council's ambitious Climate Change Action Plan was published in January 2020 and challenges everyone who lives and works in Wandsworth to reduce their carbon footprint and make Wandsworth the greenest inner London borough. Changing how people travel will be a pivotal part of achieving this goal – we need more people to use clean, sustainable modes of travel such as walking and cycling around the borough.
Cycling is a sustainable, healthy and affordable means of travel. An increase in cycling will help us to reduce greenhouse gases and pollutants that cause poor air quality and are bad for our health and the environment.
Many residents, particularly those who live in terraced streets and flats, find it difficult to keep bicycles at home due to lack of storage space.  Since the Council opened up requests for bikehangars around the borough in October, we have received over 500 requests from residents. Having analysed these requests and evaluated suitable locations, the Council is proposing to install 27 bikehangars across the borough, following a successful funding application to Transport for London.
 A single bikehangar houses six bicycles and takes up the space of about half the space of a car parking bay. Please note each bikehangar user is required to pay a refundable deposit and an annual subscription of £72 to the supplier, which covers administration and maintenance. 
The intention is for the bikehangars to be installed on an experimental basis.  This will allow us to monitor their use and consider any concerns or issues,  before deciding whether or not to retain them permanently in each location.
 Proposed bikehangar locations: 
Example image of a bikehangar installed: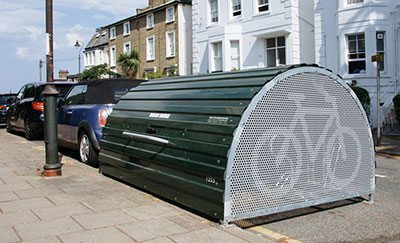 For further information about bikehangars, please visit https://www.wandsworth.gov.uk/roads-and-transport/transport/cycling/cycle-parking/bikehangars
How we chose the locations 
Wandsworth Council opened up requests for bikehangars in the borough in October 2019. The Council received over 500 requests for bikehangars from residents across the borough. We have analysed these responses and proposed the following locations based upon high level of local requests at suitable locations.
Have your say
We would like to hear your feedback about the proposed locations. Please give us your views using the online survey below. 
For any queries, or if you require a paper copy of the questionnnaire please contact transportation@richmondandwandsworth.gov.uk
What happens next
All feedback will be carefully considered before any decisions are made about the proposed sites. Where a location is selected, a bikehangar will be installed and its use monitored before a final decision is made about whether the bikehangar will remain on a permanent basis. The Council aims to install the bikehangars in Spring 2020.