Overview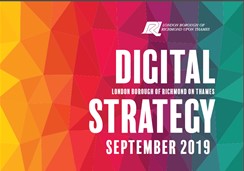 This council is committed to becoming an engaging, open and innovative council - one that has better local schools, is safer and greener, one that is fair and more affordable for all.
We are clear that an increasingly digital approach will help us deliver better, more efficient services for our residents. As the world becomes increasingly connected and more services become digital, we are also determined that no one gets left behind.
For this council, digital simply means the smart use of technology to improve the lives of our residents, businesses and service users.
We have developed a strategy that sets out how we plan to develop digital services so that everyone can benefit. We don't pretend to have all the answers! We would like to hear your feedback about the strategy to help shape the future digital direction of the Council.
Have your say
Please read our draft strategy here and give us your views using the online survey below.
If you require a paper copy of the survey or need it in another format please email consultation@richmond.gov.uk or telephone 020 8891 7172.