Overview
Richmond Council is seeking views on the introduction of additional bikehangars throughout the borough. There are currently 27 bikehangars in Richmond, all of which are fully occupied with waiting lists for spaces. The introduction of additional bikehangars will help to alleviate some of the demand for the existing units while also improving geographic coverage. 
What is a bikehangar?
A bikehangar is an on-street cycle parking apparatus that securely houses six bicycles and takes up the space of about half of a car parking bay. Bikehangars can only be accessed by registered users. They have a hydraulic opening mechanism that keeps noise to a minimum when the hangars are opened or closed.
Bikehangars are most commonly located within existing on-street car parking bays, but some are also placed on pavements where there is space to accommodate the bikehangar without impacting on pedestrian accessibility.
Bikehangars enable more residents to cycle, more often, by providing a safe and accessible location to store their bicycle. Supporting cycling is key to improving local air quality and forms a key part of Richmond's Climate Change and Sustainability Strategy.
Why have these locations been chosen?
Locations for bikehangars are driven by resident requests, primarily via the request form on the Richmond Council website. The locations represent a mix of the most requested streets and streets in areas where there are no other bikehangars nearby.
How do I access a bikehangar?
Access to each bikehangar is restricted to members. Membership is managed by CycleHoop, who also manufacture the bikehangars.
Please note each bikehangar user is required to pay a refundable deposit and an annual subscription to the supplier (currently £72), which covers administration, maintenance and any required repairs to the bikehangar.
For further information about bikehangars, please visit Bikehangars - London Borough of Richmond upon Thames
Example image of bikehangar installed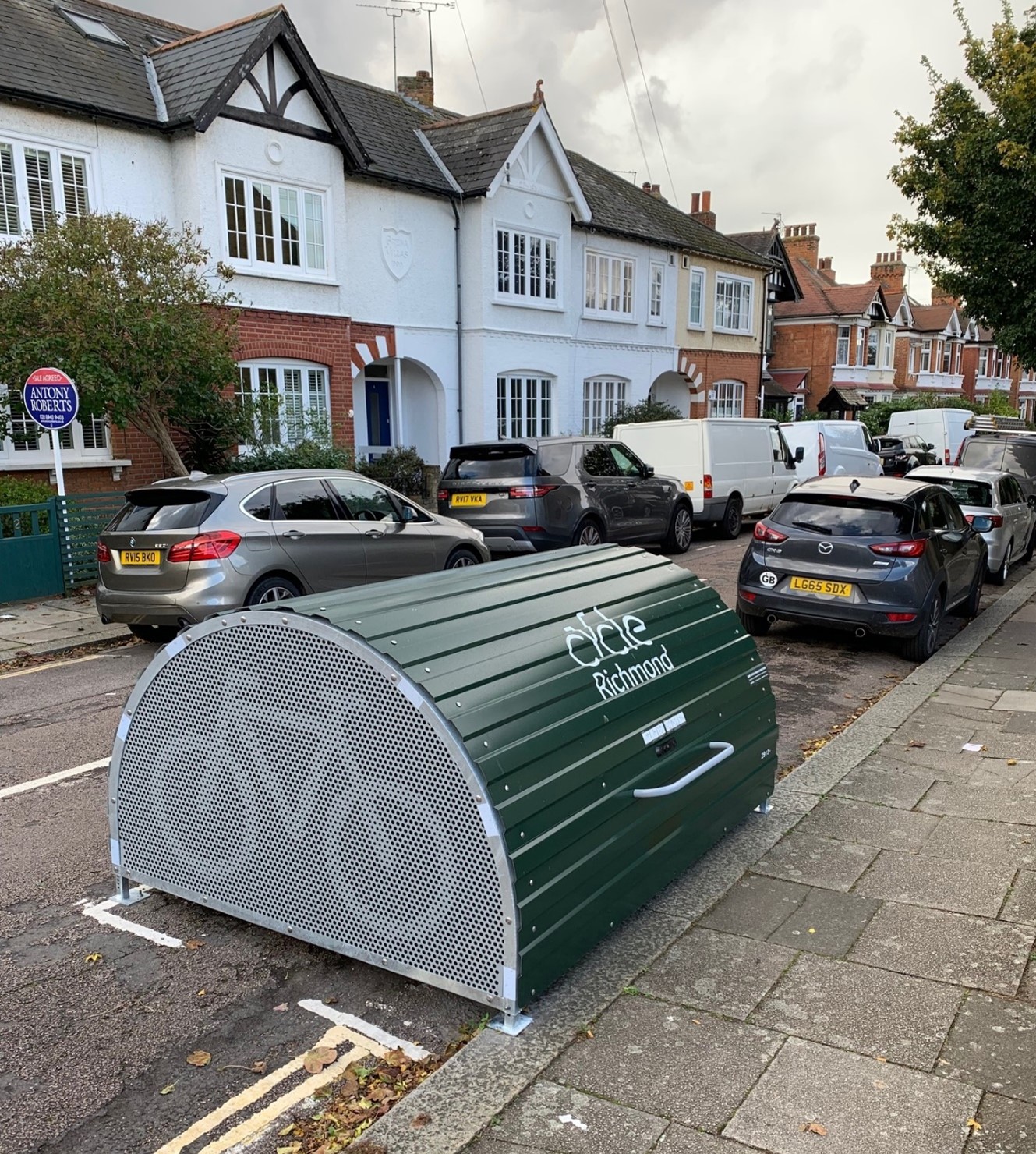 The proposed bikehangars will be the same model as pictured and is manufactured by CycleHoop. More details on the product can be found on their website.
Proposed bikehangar locations
Following on from resident requests we have analysed the responses and the following locations have been proposed following high levels of local requests. The most suitable locations have then been chosen:
Proposed locations 
Please note that locations for Barnes will be consulted separately, as there is an ongoing consultation regarding the Controlled Parking Zone in the area that may impact on the placement of bikehangars.
Have your say
We would like to hear your feedback about the proposed locations. Please give us your views using the Online Survey link below. For any queries, or if you require the consultation materials in paper or other accessible format, please contact 020 8871 7420 or transportation@richmondandwandsworth.gov.uk 
What happens next 
All feedback will be carefully considered before any decisions are made about the proposed sites. The Council aims to install the bikehangars in early 2023.