Overview
In recent months discussions have taken place between Council officers, your local ward members and community representatives to help develop a scheme to improve Barnes High Street.
The main objectives of the project are to locally widen sections of footway for pedestrians; improve the turnover of shoppers' parking spaces; regulate loading provision; improve public transport access, and ultimately to relieve traffic congestion and improve air quality in the town centre.
The proposals set out to achieve these objectives in a number of ways which are illustrated on the plan here. Broadly, the scheme involves the removal of all parking activity along the north side of Barnes High Street, and the introduction of a new eastbound bus stop positioned outside of nos. 41-43 Barnes High Street.
Along the south side, the intention is to widen the length of the footway along the whole section east of the pelican crossing outside of Barnes Fish Shop. Measures will also include the introduction of 3 new parking spaces, and a new loading bay outside of Marks and Spencer. The loading bay outside of Sainsburys will be reduced in length to accommodate new parking spaces.
Parking controls along Barnes High Street will be adjusted to operate Monday-Saturday 8.00am-6.30pm so that they are aligned with local Controlled Parking Zone CB nearby. Loading provision will also be limited to Monday–Saturday 10.00am–4.00pm, plus all day Sunday, to help ease traffic congestion during peak hour periods.
To improve parking turnover a number of parking spaces will be reassigned. In addition to the 3 new parking spaces on the south side of Barnes High Street, it is proposed to change the method of operation of 15 existing parking spaces in the local area. It is proposed to set this out as follows: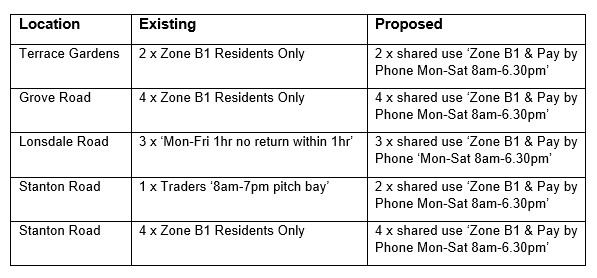 This package of measures would involve some significant changes to the town centre. If implemented, the scheme would also include the decluttering and removal of unnecessary street furniture, local carriageway resurfacing and improvements to footways and drainage.
Have your say
Please click on the online survey link below to give us your views.
If you require a paper copy or need the consultation materials in another format please contact trafficandengineering@richmondandwandsworth.gov.uk or call 020 8891 1411.
What happens next
Council officers and your ward councillors will carefully consider the feedback from the consultation. The results will be reported to the Transport and Air Quality committee where a decision will be taken on the future of the scheme. Updates will be published on this page as soon as information is available.